Inducted into the Wall of Distinction Class of 2018
Click to return to Wall of Distinction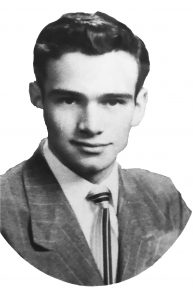 The youngest son of Helen and Richard Gunning, Ron was born and raised in Dayton, KY. Along with his siblings, Richard and Ramona Gunning Miller, he attended St. Bernard and Dayton Schools and graduated from Dayton High School in 1949.
After graduation, Ron enlisted and served in the United States Air Force during which time he met his future wife, Georgia Rees. Married in 1952, they raised two daughters, Diane Gunning Huff and Rhonda Gunning Carr, both Dayton High School graduates. The majority of Ron's working career was with 3M Company, retiring as their District Service Manager in charge of branches in Ohio, Kentucky, Indiana and West Virginia.
Throughout Ron's entire life, he has devoted himself to the schools and the city he loves…Dayton. During his girls earlier years, Ron coached several years in the Dayton Jr. Softball league and was active and held offices in the Dayton High School Booster Club. His volunteerism and activism in the Dayton Schools led to his appointment and election as a member of the Dayton Independent School Board from 1966-1990, many of which were as its Chairperson. He was a part of the Dayton School Board during the construction of the current Dayton High School and helped to oversee three additions to Lincoln Elementary School. He also served as the Board's chair when Dayton Schools, along with its superintendent Jack Moreland, led the charge which changed the school funding law leading to the Kentucky Educational Reform Act (KERA) in 1990. During this time, he was also elected to a seat and served for six years on the Kentucky School Board Association's Board of Directors. He was honored by Northern Kentucky Chamber of Commerce in 2001 with the A.D. Albright Award for his outstanding educational governance to the students of Dayton.
Ron has also been deeply devoted to the citizens of the city of Dayton. He served as a member of the Board of Directors for the Dayton Urban Renewal and Community Development which was instrumental in securing the construction of the Dayton Floodwall. Upon retiring from his service with the Dayton School Board, he decided to run for a seat on the Dayton City Council. He served on the Council from 1990-2000 and 2009-2011, being involved in developments such as Dayton's Industrial Park, the Riverfront, Riverpointe condominiums and the Grant Park subdivision. He also proudly served as the Mayor of the City of Dayton from 2000-2002. In 2011, he was presented the key to the City of Dayton upon his retirement from public service.
Ron's nearly 50 years of formal service to the students and citizens of Dayton cannot be overshadowed by his love for his family. Along with his daughters, sons-in-law, Bill Huff and Mike Carr, and all of his grandchildren…Rachel Huff (Casey) Wiseman, Erich (Erica) Huff, Patrick (Moriah) Carr and Lindsay Carr are proud, successful graduates of Dayton High School. He currently enjoys spending time with his wife of 65 years, their children, grandchildren and great-grandchildren…Cameran, Annsley, Liam, Chase, Teagan, Piper and Paxton. And of course…the citizens of Dayton.